We Take Care of Our Employees
We Work, Travel, Learn, and Grow Together.
At EEI, we understand how important each team member is to our success. Therefore, we do all we can to keep them happy, engaged, and fulfilled so that both the individual and the company succeed.
Our goal is to create positive collaborative relationships between our employees and to create an environment where our people feel challenged, valued and appreciated.
Explore a Career at EEI
Equal Opportunity Employer
All qualified applicants will receive consideration for employment without regard to race, color, religion, sex, sexual orientation, gender identity, national origin, or protected veteran status and will not be discriminated against on the basis of disability. For more information see the "Know Your Rights" poster at https://www.dol.gov/agencies/ofccp/posters. Applicants may submit a reasonable accommodation request to fully participate in the application process by contacting careers@eeiteam.com.
Enterprise Engineering, Inc. uses E-Verify to confirm the employment eligibility of all newly hired employees. To learn more about E-Verify, including your rights and responsibilities, please visit www.E-Verify.gov.
Drug Free Workplace: Pre-employment
Applicants being considered for hire must pass a drug test before beginning work. Refusal to submit to testing will result in disqualification of further employment consideration.
Retirement Plan*
Auto-enrollment at 3% pre-tax, unless employee specifies otherwise
Quarterly 3% Safe Harbor contributions
Admin fees are 100% employer paid
Health Insurance*
High Deductible Medical Plan
Health Savings Account (HSA) compatible plan
Health Reimbursement Arrangement (HRA), with automatic reimbursement
Vision
Dental
Life Insurance & Disability*
Life Insurance 100% paid by EEI
Long Term Disability 100% paid by EEI
Short Term Disability partially EEI paid
Optional additional life insurance for employee, spouse and children
Health & Fitness Reimbursement
Tuition Reimbursement
For approved courses related to current position or business-related professional development
Retail Warehouse Membership Reimbursement
Flexible Spending Accounts*
Medical
Limited Purpose
Dependent Care Accounts
*Denotes eligibility/start date is the first of the month following the date of hire.
We Enjoy the Process of...
Learning
At EEI, we take advantage of any available professional training and learn from each other as we travel and work together.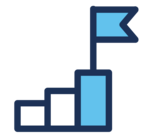 Teaching
We encourage each person to share their knowledge and teach others what they've learned from their unique training and experience.
Growing
The world's needs change and grow constantly, and our company grows to fulfill those needs by sharing ideas and looking for opportunities.
Together We Add Up to Greatness
Our Team is Knowledgeable
The civil, mechanical, structural, and electrical engineering fields are all complex and ever-changing, and everyone's training and experiences are extensive and unique. We have become a great company because we understand the importance of each team member's knowledge and experience.
Our Team Members are Valued as Individuals
Each team member brings personal strengths, experiences, and knowledge that are unique. As a company that values employees, we celebrate our employees' differences and value that no two people are alike. By embracing different backgrounds, education, and experiences, we become a much better company ready to face any challenge.
We Value Healthy Personal and Work Relationships
Our people thrive by keeping a healthy work-life balance. By building strong, healthy relationships at home,  work, and in the community, team members can discover their best selves.